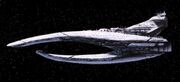 The
Destiny Beyond
is the newest and most powerful ship created by the Asari for the
CA
in an effort to help them defeat the
TSA
. The ship is even larger than the Destiny Ascension and far more powerful. The ship has a number of weapons including turrets, rockets, and torpedoes but also has a new weapon that has been developed for the first time by any Citadel race. Through generations of research in mass relay technology, the Asari have outfitted the Destiny Beyond as a portable mass relay. Any ship can use the massive vessel to jump to mass relays across the galaxy. The ship can also fire a bolt of energy similar to a reaper ships weaponry. These capabilities make the Destiny Beyond a highly formidable ship.
Ad blocker interference detected!
Wikia is a free-to-use site that makes money from advertising. We have a modified experience for viewers using ad blockers

Wikia is not accessible if you've made further modifications. Remove the custom ad blocker rule(s) and the page will load as expected.