This is a mini page based on actual Mass Effect Canon. To see the full article on the Mass Effect Wiki, Click Here. Edit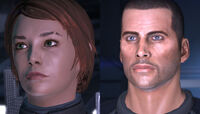 Humans, from the planet
Earth
, are the newest sentient species of notable size to enter the galactic stage and are arguably the most rapidly expanding and developing. They independently discovered a
Prothean
data cache on
Mars
in 2148, and the
Mass Relay
networks shortly thereafter.
In 2148, human explorers on Mars uncovered a long-ruined Prothean observation post, with a surviving data cache that proved Protheans had studied Cro-Magnon humans millennia ago. While religions tried to assimilate this discovery into their doctrine, a global rush began to decipher the petabytes of data from the outpost. Discovering information on a Mass Relay orbiting Pluto, explorers managed to open the Charon Relay and discovered it led to Arcturus. With the help of the fledgling Systems Alliance, humans expanded to other systems, opening any mass relays they could find.
Humans first came to the attention of the galactic community after a brief but intense conflict with the Turians, known by humans as the First Contact War, begun in 2157. The conflict began when the turians attacked a human fleet attempting to activate a Mass Relay (illegal under Council law) and then occupied the human planet of Shanxi. The humans then launched a massive counter-attack, which caught the turians by surprise and expelled them from Shanxi. The conflict caught the attention of the Citadel Council, which wasted no time brokering a peace, thus introducing humans to the galactic community. As a consequence of the Alliance's swift and decisive action during the First Contact War, the Alliance became the representative and supranational governing body of humanity. Since then, humans have rapidly risen in prominence.