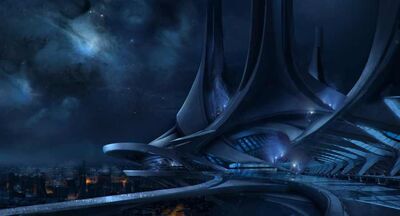 Thessia is the homeworld of the Asari. The planet is dotted by loose confederacies of great republican cities - including Serrice and Armali - that function in an overall democracy connected by the asari internet. Many of these cities are home to craft guilds legendary for the quality of their bio-amps.
In Mass Effect: Revelation, David Anderson drowned his sorrows at Chora's Den with a liquor from Thessia called 'elasa'. Edan Had'dah was also fond of dressing in the latest Thessian fashions.
"Thessia" is adapted from Thessaly. Roman writers such as Ovid and Seneca held that the "witches" of Thessaly had the power to draw down the moon.
Ad blocker interference detected!
Wikia is a free-to-use site that makes money from advertising. We have a modified experience for viewers using ad blockers

Wikia is not accessible if you've made further modifications. Remove the custom ad blocker rule(s) and the page will load as expected.